Accessible Sheffield is an informal partnership between the Access Card (Nimbus), AccessAble, Access Liaison Group, Disability Sheffield, Sheffield Carers Centre and Sheffield City Council helping make a more equitable and accessible City for disabled people and carers.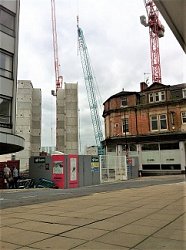 "breaking down the barriers people face to accessing their community, civil life, leisure opportunities, employment and education makes financial as well as social sense. An accessible city is great for everyone who lives in or visits Sheffield. We don't want anyone excluded from enjoying what our city has to offer"
AccessAble

AccessAble (previously DisabledGo) is working in partnership with Sheffield City Council to provide an access guide to over 1000 venues covering Sheffield. AccessAble provides information on all sorts of venues such as: shops, restaurants, leisure centres, hotels, parks, places of worship, resource centres and many more.

Following Sheffield's hosting of the Special Olympics in 2017 AccessAble put together a detailed guide listing all Special Olympic venues and is available still, with the rest of our special city guides. The Sheffield Guides also have room for user feedback offering added value and reassurance from peoples lived experience in addition to the technical information available from the access auditors.

The guides are totally free to use and of interest to both residents and visitors. Here is a link to the Sheffield Guides which are part of the Accessible Sheffield Project. They are available in paper based format too.

Access Card

The Access Card is a card like no other, we translate your disability / impairment into symbols which highlight the barriers you face and the reasonable adjustments you might need.

This then informs providers quickly and discreetly about the support you need and may gain you access to things like concessionary ticket prices and complex reasonable adjustments without having to go into loads of personal detail.

Its all based on your rights under the Equality Act and providers responsibilities.

Some organisations are now using the card to passport the need to provide evidence. Where this is the case the Access Card is an optional way to simplify your bookings with several providers.

Applying online is easy – visit this link: www.accesscard.org.uk/apply and complete the application form. You can upload all of your supporting information or send it through later.

Similar to the Access Card the Carer Card informs providers quickly and discreetly about the support you need as a Carer and may gain you access to concessionary goods and services without having to go into lots of confidential personal detail.

You can apply for the Carer Card through The Carers Centre and complete the application form.

Access Liaison Group

Sheffield City Council facilitate the Access Liaison Group, a group, which ensures that disabled people can have a fair input on changes across the city.

New members are always welcome so please contact us if you wish to get involved.

See also our voice and influence section for more content on the activities disabled people are involved with the Access Liaison Group and Sheffield City Council's Access Officers.

Disability Sheffield work closely with the Access Liaison Group (ALG) where we are currently working with other ALG members in convincing Sheffield City Council that the Disability Access Officers are vital to the continuing independence of disabled people in the city.

Please read the download opposite for further information on our petition to keep both Disability Access Officers (part-time) roles in Sheffield City Council.

Nimbus

Nimbus is one of the country's leading providers of disability related advice and support to business. They provide a wide range of training and consultancy services and are also the creators of the national and local schemes CredAbility Quality Assurance (see CredAbility Flyer), the Access Card and the Carer Card. Please see further details below under Providers, Services & Shops.

Sheffield City Council


Sheffield City Council has also set up the Disability Hub, part of the "Equality Network Hub" for individuals and organisations to work with the Council and partners to take action on equality and fairness issues.

Read more on the Voice and Influence pages under What We Do section of the website.

Providers, Services & Shops

Are you are looking to take your pro-active commitment to disabled customers to a different level? If so, then we can help with signposting and advice.

Together we can be part of a growing movement which takes pride in its commitment to disabled customers, so please join in!