Autism Insight Training
We are a small team made up of people with lived experience of Autism and Carers. We want to help our community have a better understanding of what it is like to live with Autism and the effects it can have on our lives so that together we can build and Autistic friendly community.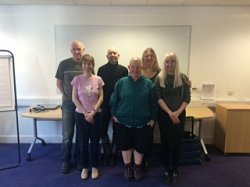 The Insight Training Team
Disabled people are have their own spending power of £80Bn but their experiences at retailers influences the behaviour of family, friends and social circles which increases the potential market to £212Bn per year so it's in your interests to get it right. We can help service providers to make their services more Autistic friendly by making small changes that can have a massive effect the overall experience of someone with Autism and carers. —

Our training aims to give an introduction to autism from personal insight. We can help learners to:

• have a better understanding of the wide variations of autism and how people cope in everyday situations
• an understanding of how to support people on the autistic spectrum so that they are offering a more inclusive service
• Understand the popular misconceptions about autism and its related conditions and challenge these stereotypes

This is what people say about our training

'A very informative and helpful session with elements of fun woven into what is a quite intense subject'

'I think either a yearly or termly update either supplied by specifically trained staff or by and external supervisor to ensure our protocols are up to standard would be good'

'This session should be delivered to all private/public and voluntary sector organisations – we all need educating like this'

'This has been the some of the best and most useful training I have ever taken part in. I would recommend it to any organisation who works with the public and provides a service'

'Having training led by people with Autism is so very important. This is undoubtedly the best and most informative training I have ever been on'

'I really enjoyed the session, it was a bit dubious at first but I can honestly say that I learned a great deal about Autism and Asperger's – thanks'

If you are interested in booking our training please contact Disability Sheffield on 01142536750
Training for Individual Employers and PAs
Disability Sheffield has once again secured some funding from Skills for Care to enable us to offer a programme of free training courses from July 2018 – February 2019.
(This project is part of the Sheffield Employer and PA Development group, a unique collaboration between Disability Sheffield, Sheffield City Council and Individual Employers and their Personal Assistants)
A summary of the courses currently available free of charge to IEs and PAs can be viewed here.
Further information on how to apply for other training opportunities through the Sheffield Development Hub and Sheffield City Council's full training directory is available on the Council's website .
Disability Sheffield also facilitates the Individual Employer and PA Development Group. The group meets on a quarterly basis and works in a fully co-produced way to identify develop and implement learning opportunities and resources for IE and PAs in Sheffield. The group is open to anyone. If you would like to join Tess Daly by e mail tess.daly@disabiltysheffield.org.uk or phone Disability Sheffield on 0114 253 6750.