Training
Through our training and consultancy Disability Sheffield can help businesses by developing an inclusive workplace. As a disabled people's user led organisation we know just how beneficial employing disabled people can be. Our experienced staff can support you in creating a diverse, knowledgeable, and confident team.
We are an organisation run by disabled people, and as such we carry a fair deal of expertise. Under our guidance, you will meet your equality duties as an employer or service provider. You may even increase output and productivity in having a cohesive workplace and truly inclusive environment for customers and/or staff alike.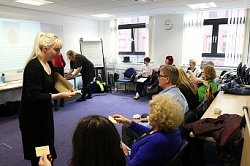 Working with a wide range of private and public services and dealing with staff members from senior management and human resources, our services are tailored to support business to improve their understanding of equality and disability.
You can download a copy of our Training Brochure here