Direct Payment Strategy Involvement and Coproduction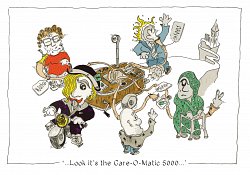 What does the future of Direct Payments in Sheffield look like?
Direct payments are paid by the council to a person to cover the costs of their social care and support. They offer flexibility and choice in the way that support is arranged.
Over the past year Disability Sheffield and Sheffield City Council have been working with people who have experience of social care to ensure that their views, knowledge, and insights about direct payments are used to help develop good support and ways of working for people using direct payments.
Earlier in the year we carried out a survey and talked to people who have experience of social care. We presented the information we collected to Sheffield City Council and this is being used to help shape the future of direct payment support in Sheffield.
You can download a copy of the report here
You can download an infographic summary of the report here
You can download an infographic six month progress update here
We are still looking for people to get involved in the project board and other activities as part of this strategic review.
If you have something say or share, or want further updates about this project please contact Emily or Stephen at Disability Sheffield;
Email: admin@disabilitysheffield.org.uk
Text/Phone: 07541937169 / 07951050153
Race, Disability and Self Directed Support in Sheffield
This workshop will explore experiences of social care and self directed support for disabled people from black, asian and minority ethnic communities in Sheffield. This will include highlights from the 'Think Local Act Personal (TLAP)'s recent report about the value of community groups in achieving good and personalised social care outcomes for people.
The event is for anyone with an interest in these issues.
The online workshop on Wednesday 8th December 2021 from 11am to 1pm, via Zoom, will also discuss local issues, including barriers to self directed support and local opportunities for change. With contributions from Emily Morton, from Disability Sheffield, David Bussue, from SACMHA and Clenton Farquharson, from Think Local Act Personal
To book a place or for further details please contact Stephen Lee Hodgkins, on behalf of Disability Sheffield, by emailing hiya@stephenleehodgkins.net or phone/SMS 07951050153.