Sheffield Voices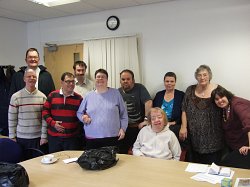 Who we are
We are a group of people with a learning disability who meet at the Circle on Rockingham Lane. We are a self-advocacy group. We meet once a week to talk about what matters in our lives.
The Sheffield Voices group is user led i.e. by people with a learning disability themselves (10 people).
We are a group of people who are committed to learning how to get better at self-advocacy and give other people a chance to get involved. We want to look forward to a time when we don't have jargon for describing an activity that most people take for granted.
What is self-advocacy?
Being able to support and speak up for people in a friendly way. Having your say and getting your voice heard. Having choices, having control in your lives. Being listened to.
Aims for Our Group:
• Encourage people to join in
• Learn New Skills, open our eyes to new things
• Keep information simple
• Support each other to solve problems
• We have social activities and go out for meals
• We have highs and lows talking about what is good and bad in our lives
• Learn about our rights
• Make our views known to people like the Council, Sheffield Health, managers of services
• Promote Advocacy
Things that the group have done
• Arts and Crafts
• Social events
• Welfare Changes ( Benefits )
• Lobbying ( had meeting with Nick Clegg )
• Numeracy and Computers
Talks and discussions on….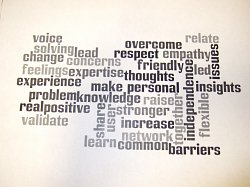 • Access to the Countryside
• Crime and Punishment
• Jobs and Voluntary Work
• Choosing where and how to live
• Healthy Eating
• Eye Care
• Housing Plan
• Bullying and Hate Crime
• Transport
• Family and Relationships
• Being Safe Out and About
• First Aid
History of Sheffield Voices
Sheffield Voices started in 1997 and at that time was called SUFA.
The first steering group met at Voluntary Action Sheffield with the idea of starting a self-advocacy group for people with a learning disability and independent of Social Services and Sheffield Health.
We went round to various groups to see what people wanted, then got funding for a support worker. After that we joined with Sheffield Citizen Advocacy (SCA).
1999 Our Vision, Our Future –came to Sheffield about being a self-advocacy group.
1999 – a development worker was recruited.
Our contract ran until 2010 with Sheffield Council, when we decided not to go through the tendering process. Since then we have formed our own self advocacy group under the umbrella of Disability Sheffield.
Our Hopes for the Future:
To reach out to more people with a learning disability to get more members.
To work with other organisations to make sure the voices of people with learning disabilities are heard.
Develop our plans to go for funding.
Getting involved with the Sheffield Voices group
If you are interested in knowing more about us, want to learn about advocacy or you have some skills that you want to share, please get in touch with us:
Lucy Davies, Disability Sheffield: 0114 2536751
We meet every Thursday at 10.30 to 2.00 at The Circle, 33 Rockingham Lane, Sheffield, S1 4FW please contact us for a form if you are interested in joining. The cost is £3. Please bring a packed lunch with you.
Please note – no hot food allowed – tea, coffee and orange is provided.
Labels are for Jars Not for People
You can view our Disability Hate Crime video here.
For information on Advocacy Services please click here