Some of Sheffield's high street businesses are about to turnaround Government research that shows disabled people find shopping one of the most difficult experiences in their lives. Going to the cinema, theatre and gigs, going out for a drink or a restaurant are going to get easier.
Disability Sheffield has teamed up with Sheffield City Council and Nimbus to offer a new Access Card for disabled people and a Carers Card to anyone caring for someone in Sheffield.
As part of the Accessible Sheffield project the aim is to make life easier for people.
Andrew Crooks, a wheelchair user from Disability Sheffield, said: "The Access Cards translate people's disabilities into symbols which show the barriers they might face and the adjustments they might need. This means people are made aware, in a discrete and quick way, about the help they might need – like access to concessionary ticket prices – without having to go into loads of detail.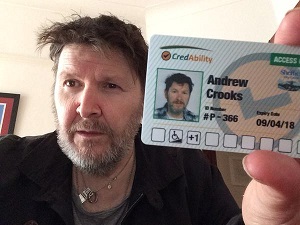 It's a really useful tool to save me the time and humiliation of having to explain everything – often to people who don't have time, or are in a noisy environment so I have to shout!"
The cards also offer a range of offers and discounts. The Carers card has been specifically designed to reward carers for the work they do, which is often unpaid.
Councillor Jack Scott, Cabinet Member for Community Services and Libraries, at Sheffield City Council, said: "Breaking down the barriers people face to accessing their community, civil life, leisure opportunities, employment and education makes financial as well as social sense. An accessible city is great for everyone who lives in or visits Sheffield. We don't want anyone excluded from enjoying what our city has to offer".
Nearly a fifth of Sheffield's population has a long term health condition or impairment – that's well over 100,000 people. And many will have their care needs met by the city's army of some 60,000 unpaid and informal carers.
This month we caught up with a group of young carers from different parts of the city who had volunteered their time with Quasar, and through the Carer Card, are getting a special discount to experience the ultimate sci-fi action adventure. Whether you're 7 or 77, disabled people and carers love the adrenaline pumping exhilaration of these walk-in game zones of the 21st century.


Or, as one of these unsung young local heroes puts it: "life as a young carer is no video game – being a carer is for REAL and being able to escape like this from time to time, when it's affordable, makes us better carers."
For more information about the Access Card and Carer Card please contact Andrew Crooks at Disability Sheffield on 0114 253 6752 or andrew.crooks@disabilitysheffield.org.uk
Facts and figures
Sheffield's population is over 550,000, dwelling in 229,928 households. More than 13% of working age adults in Sheffield report a long-term health problem that limits their activities at least a little. 18,418 people in the Census aged 16-74 are economically inactive due to long-term sickness or disability.
A person is a provider of unpaid care if they look after or give help or support to family members, friends, neighbours or others because of long-term physical or mental ill health or disability, or problems related to old age.
More than 57,000 people in Sheffield provide some level of unpaid care. For the majority, this is limited to 19 hours per week or less. There are 14,512 people who provide 50 hours or more of unpaid care per week.
The Carers Centre offers a range of support and information services to all carers in the city looking after a relative or friend who is unable to manage alone due to disability, severe illness or frailty. From 1 January 2017, the Carers Centre has entered into a new contract with Sheffield City Council to deliver services to carers.
Sheffield Young Carers Project (

SYC

) is a registered charity established in 1997 to support young people aged 8-25 years who provide a substantial amount of unpaid care to a member of their family, due to long term illness, disability, mental ill health and/or substance misuse issues. At any one time,

SYC

supports more than 100 young carers across Sheffield, in addition to supporting members of their families and providing training to key individuals such as GPs and teachers. Research carried out by the

BBC

in 2010 revealed that 1 in 12 children and young people are providing mid- to high-level care to a member of their family, which means there are an estimated 7,300 young carers in Sheffield. The average age of a young carer is 12.
The UK's 11.9 million disabled people are said to have disposable income collectively worth £80bn. This is commonly referred to as the Purple Pound. Campaign groups regularly cite this figure and find it useful to remind businesses and politicians that disabled people are a sizeable economic force and should not be forgotten.